Larry has long advocated green building design principles—his first project noted for its energy-saving design was in 1985.  He was one of the first technical advisors for the Multifamily Green Building Guidelines that are the foundation of the Green Point Rating (GPR) system by Build-it-Green, and continues in that role for subsequent editions.  He was also a technical editor for Good Green Homes.  MA's projects are so inherently "green" that when the developer of Sierra Meadows decided to try for LEED certification AFTER construction had begun, only a few thousand dollars in Change Orders were required to earn LEED Gold.  Moreover, Sierra Meadows is one of the least expensive projects to attain Gold certification (approx. $154/sq. ft.).  The project also has a high GPR of 134.  To achieve such ratings, we carefully balance initial costs versus life-cycle costs, which include energy usage, maintenance costs, and durability (and thus replacement costs). 
Projects and links for Environmental Responsibility:
Carmen Avenue
Sierra Meadows
Trenton Terrace
Villa Serena
Multi-Family Green Building Guidelines
Good Green Homes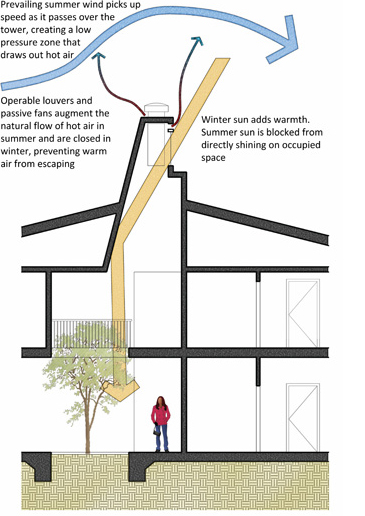 Sierra Meadows: Energy and daylighting diagram.
"Larry excels in providing environmental sustainability and design of outstanding quality with an eye towards managing limited financial resources...His energy efficiency measures have produced significant utility cost savings, not only for management, but for our extremely low-income tenants."
"Larry...has for years practiced "green architecture." For Larry, he considers green building to be equivalent to good design and he makes green part of "business as usual."