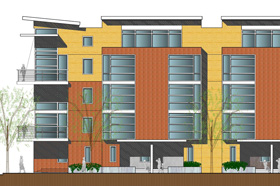 Raimondi Park Oakland, CA
Although located on a site occupied by a vacated industrial plant in West Oakland, this is opposite a public park. The program consists of 330 units of for-sale condominiums, ranging from studios to two-story two, three, and four-bedroom townhomes. Parking for 500 cars is located in a podium below, but the townhomes "cascade" over the podium, creating a streetscape lined with porches and unit entries.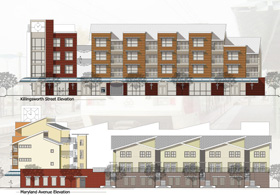 North Gate Lofts, Portland, OR
Designed as an urban infill TOD, this mixed-use project sits at a prominent intersection along the new South/North light rail line, connecting to east/west buses. The clock tower identifies the building as the "station", and serves as a gateway to the major community college district a few blocks to the east. New retail spaces line the two main streets, with for-sale loft housing above, while on the back side, facing existing single-family homes, the project steps down to affordable rental townhouses. The program consists of 54 units (studio lofts to three bedroom townhomes), 12,000 sf of retail space, and parking for 55 cars, including car share spaces and unique "swing" parking for daytime retail use and nighttime residential use.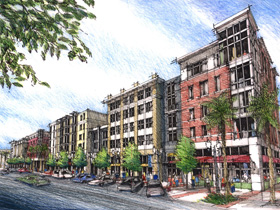 4th & MacDonald Richmond, CA
This urban infill TOD fills two full city blocks along Richmond's main downtown street, near the BART station. It is comprised of 30,000 square feet of retail and restaurant space, 430 units of rental and for-sale housing (from studios to two-level townhomes), and parking for 550 cars. The perimeter of the parking podium is lined with retail along the main street, while on the quieter side and back streets, units cascade over the podium and down to the street, so that there is a fine-grained pedestrian experience on all sides of the project. Though quite a large project, the facades of the buildings are rendered as a series of smaller buildings, maintaining the scale and feel of the surrounding older buildings.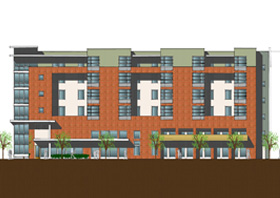 International Blvd. Oakland, CA
This mixed-use project is part of a four-block development master planned by Larry. The ambitious project is intended to create a new neighborhood center for a struggling section of East Oakland. This particular block contains separate residential projects over a retail/parking podium. One residential project is a 54-unit affordable senior living residence, and the other is for-sale condos. Each has its own entry and parking, though to save space and costs, there is a simple access easement on the senior property so that condo owners can access their parking through a shared ramp. Retail and community spaces line International Blvd, while there are landscaped terraces above the podium.